Florist eCommerce Services
Unlimited florist website design options
Whatever your florist's style or color scheme, we will design your florist website with your branding in mind. Everything from big and bold to minimalist and simple! All of the services listed below are included with the Media99 Florist eCommerce package.
See some of our florist website designs.
Client Support
From changing the categories displayed on your florist website to displaying a different banner for this week's sale, we've got you covered. You can call our office during business hours, or you can use our online support system 24/7. Our
HelpDesk
is a great resource for day-to-day questions and needs. We also have online tutorials available at a click to walk you through tasks you may use on occasion, with just enough time between that a little reminder is handy. We're a small business like you and understand that talking with someone who both understands and is ready to help is exceptional these days - we aim to be exceptional. We are here to help or provide answers to questions concerning your florist eCommerce business when you need it.
Learn more about our HelpDesk
Holiday/Seasonal Banners and Florist Marketing Tools
Promote a summer rose sale to your customers or remind them of an upcoming holiday. Select from a variety of holiday and seasonally-inspired professionally designed banners and email marketing pieces from our online maintenance system or request a custom design based on your specific needs. We even handle the creative artwork aspect, saving you the time and effort required in most self-service email marketing programs.
If you want to create your own images for banners or promotions, that's great! We can provide tips on sizing and resolution to make it easier. Just send us the image you want to use, let us know where you would like it placed, and we will make it happen.
Learn more about our Online Florist Marketing Tools
Unlimited Products and Categories
You can add as many floral products to your website as you wish. We do not limit on the amount of products on your florist website. You can also create your own product categories, again, with no limits. If your town has a special festival or celebration coming up, feel free to create a category and merchandise it with the products you want to sell. When you are ready, we make the category live on your website, and then we remove it based on your requests.
Learn more about your florist products with Media99.
SiteWorks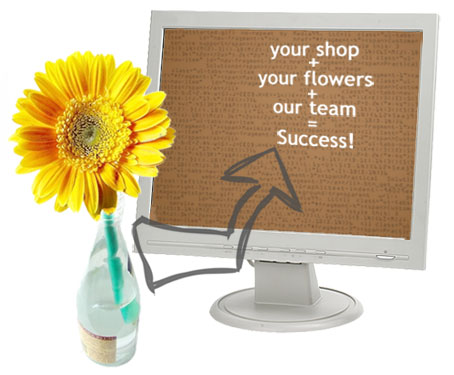 Readily available options for website maintenance are vital to the florist's online success. SiteWorks, our custom florist eCommerce website maintenance system, puts the tools needed to edit your florist eCommerce website right at your fingertips - 24/7. These tools are available from any device with an internet connection and web browser. Just login and change the options you need to change, create a new category, add a new product, setup a discount code and much more! Just a few of the features available for all of our florist websites include:
Florist Product Management, including:
Home page products, multiple pricing options, multiple images per product, category associations, and related add-ons
Add-on Item Controls, including tailoring the add-on type to the product
Category Set-up Control
View, Print, Email and Fax Orders

Custom Discounts & Promotions
Delivery Charges by Zip Code
Delivery Minimums by Zip Code
Restrict Delivery Area by Zip Code
Delivery Date selections, Order Cut-off Times and More
Select from Professionally Designed Seasonal & Holiday Website Banners
Designate Products for Local Delivery Only
Designate Products as Sold Out
Quantity Countdown for Products
These plus many more features are all available to you 24/7 from anywhere in the world with SiteWorks, Media99's online florist eCommerce website management software.

Ongoing Maintenance and Hosting Services
We provide full hosting and maintenance services, and we make the daily use of your florist website an experience for both flower shops and consumers a pleasant one. Our florist management software provides you access your website management tools from any platform, as long as you have a browser and internet access you can edit your website. We provide the complete package - all you need is a computer and an internet connection to put your florist eCommerce website to work for you.
Organic Content Management
We have a florist-centered content management system in place to keep your florist website blooming with new content on a regular basis. This content isn't copied and pasted from other websites in an attempt to stuff keywords into your website's pages. It is written by our staff who have compiled the information from credible sources. This makes you not only the best local florist in your area, but an online resource they know and trust.
Point of Sale Integration
We integrate with many popular Point of Sale systems.
Click here to see the full list
. We do not sell a POS, and do not require you to use a specific system. If you currently do not have a point-of-sale, we suggest looking into one designed specifically for the floral industry, such as those listed in the link above. Like us, they recognize the unique nature of the floral business and have designed their programs to work with those distinct characteristics.
Responsive eCommerce Website Design
Your responsive florist eCommerce website with Media99 automatically adjusts to your customer's device giving them the best experience regardless of what digital media platform they use to order flowers from your flower shop. Your customers can visit your website on their laptop, tablet or smartphone and order flowers right away. We save you the extra expense of an app, so customers don't have to bother downloading an app just to order a bouquet twice a year. Our use of responsive website design allows your mobile florist website to stay up to date with your desktop website without extra time, effort and money spent.
Email Services
Included with every florist eCommerce package are five
email
accounts at your domain at no extra charge.* Want the address susie@your-flower-shop-domain.com? No problem! Conveniently
check your email
on any computer using our
web-based client
, not to mention the hundred of mobile email clients available, no matter if you're in the shop or on the road.
You can also step through our configuration wizard to set up Outlook, Thunderbird, and many other popular email clients. Expand your on-the-go capabilities with your email made accessable via your smartphone.
* Additional accounts are available at a minimal charge.
SEO Services
As a part of every florist eCommerce website we design are the industry best-practices for local SEO results. The meta data tools within SiteWorks also give you the ability to fine-tune and adjust your meta tags even further. With our dedicated, on-staff SEO services, you can be involved with the SEO of your site as much or as little as you prefer. From as minimal as answering the occasional question to advanced, fully-managed SEO, we aim to help your website be visible in the sea of online businesses. Along with targeted local SEO, our content management system adds to the relevancy of your websites information and keep you up to date. Each client website is evaluated individually so that we can better offer SEO improvements as needed.
Website Analytics
We work with Google Analytics to offer thorough florist eCommerce analytics and reporting. After setting up your free Google Analytics account, we'll configure your website to make use of the most complete tools available in today's florist industry. You will be able to track online traffic and customers from virtually every aspect. Download or view reports, or create your own reports to encompass the statistics that are most valuable to you. Monitor everything from keywords to user paths to referrals to conversions, and even discover what customers are typing in your website's search box!